The Microsoft Partner Network is the official Microsoft partner program that helps partners grow their business, reach customers, and sell their solutions.
It's important for resellers to have a Microsoft Partner Network ID (or MPD ID) to ensure that their CSP reach and revenue is recognized properly. This will impact their eligibility for partner incentives, promotions, as well as other timely programs.
Getting an MPN ID takes seconds, and there is no cost. You should also link your location MPN ID to your Sherweb account in our partner portal. This will allow you to benefit from the various programs and promotions run together by Sherweb and Microsoft.
What are the benefits of having an MPN ID linked to the Sherweb partner portal?
Expand your knowledge
Get access to the Microsoft partner community and stay informed on all the latest news.
Leverage a robust calendar of webinars and in-person training sessions taught by technical experts through either US Partner Hub or Canada Partner Hub.
Enable every member of your team with sequenced sets of learning assets. Technical Journeys and the Microsoft Training Center ensure you have the knowledge and skills needed to grow.
Reach more customers
By using Microsoft Smart Partner Marketing, PartnerOn, Marketing & Sales Content, Qorus Content Hub, and Partner.Microsoft.com, get customizable marketing materials that will help expand your reach to more customers.
Make sure the apps you develop are pushed to the right customer by leveraging AppSource and the Azure Marketplace.
How to get access to Microsoft promotions, incentives, and joint marketing funds
There are many Microsoft CSP incentives, and the first step is to obtain an MPN ID. Microsoft incentives are activated once an MPN partner acquires a competency. You should link your Location MPN ID within the Sherweb partner portal even if you're not ready to get competencies. Here are a few reasons why:
You start getting recognized for your business; this allows you to prepare for a competency and receive additional incentives when the time is right.
Microsoft launches many promotions for MPN partners that don't require competencies. Having an MPN ID allows you to always be ready to make the most out of market promotions.
With Microsoft and Sherweb recognizing your revenue through a linked MPN ID in the partner portal, you become part of a program called SureStep. This allows both Sherweb and Microsoft to build a stronger relationship with you. By helping with marketing funds and working as a true business partner, you'll achieve the goals you set for your business.
Microsoft Incentives
The Microsoft CSP Indirect Reseller Incentive program rewards reseller partners who purchase from a CSP indirect provider like Sherweb. These incentives help drive the activation and enablement of customers with Microsoft-based online services.
Partner eligibility
The eligibility elements required to participate in Indirect Reseller incentives are:
An active MPN membership coupled with
An active competency at the silver or gold level from the defined list of competency options.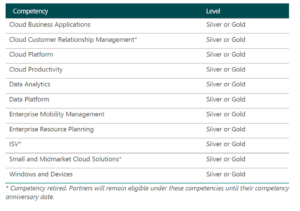 Enrollment
Microsoft will invite partners per eligible MPN HQ or Location ID to participate in CSP incentives by emailing to a business address(for example, @Microsoft.com). Onboarding must be completed for each invitation.
Partners on-boarded to the partner incentive tool in a previous fiscal year do not need to go through onboarding again, but must continue to meet eligibility requirements to receive incentives for the current fiscal year.
Eligibility and incentive calculation timeline
A partner's incentive earnings start date will begin on the first day of the month in which they complete all eligibility requirements, including submitting bank and tax details.
Program structure and rates
This incentive includes global, local, and co-op components. The new rates for FY20 were effective from October 1, 2019.
Q2 – Q4 Incentive
Rate
Azure Billed Revenue; O365, M365
4%
Dynamics 365
6%
CSP Customer Add Accelerators for Three Clouds
Varies (Below)
Global Strategic Product Accelerator

M365 E3, M365 E5, M365 Business, O365 Biz Premium, the 2 E5 Mini-Suites, D365 Business Central

5%
Global PSTN Calling and Conferencing Accelerator 
20%
Software in CSP – Subscription
Core – 1.25%, Strategic 6%
Azure RI (Paid on consumed Azure RI revenue)
10%
CSP Customer Add Accelerators for Three Clouds:

Example of CSP Incentive Calculation:
| | | |
| --- | --- | --- |
| M365 E3 New Customer Add | Year 1 Microsoft Price | $2,048.00 |
| Core Incentive | 4% | $81.92/Month |
| Global Strategic Accelerator (Since M365 E3 is a Strategic Product) | 5% | $102.40/month |
| CSP Customer Add Accelerator (Modern Workplace 5% for 12 months) | 5% | $102.40/month |
| Total Monthly CSP Incentives |   | $286.72 |
| Estimated Yearly |   | $3,440.64 |
|   |   | + Sherweb margins & tier Discounts |
You should now find yourself armed with all the information you need to make the most of the Microsoft Partner Network. If you'd like to know more about a partnership with Sherweb, be sure to take a look at our infokit.